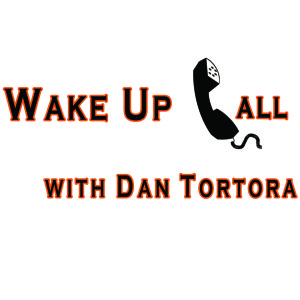 Saturday Sep 29, 2018
EPISODE 176 OF 2018 - Dan Tortora talks football with "Papa Joe", welcomes AAC Commish Mike Aresco, heads to the court with Katie Kolinski, & into Fantasy Football to close
1st Segment - "WakeUpCall" Signature Segment, entitled "Papa Joe's Picks", where Dan & "Papa Joe" discuss college & pro football. In this episode, hear their take on the new redshirt rule, how players like QB Kelly Bryant can use it to essentially become a free agent, coaches & schools short-term relationships in today's college football, & get their WEEK 5 Picks.
2nd Segment - Dan Tortora is joined by longtime guest, Mike Aresco, the Commissioner of the American Athletic Conference, who shares his thoughts & feelings on numerous topics surrounding his conference, the "Power 5" vs. "Power 6" stance, the new redshirt rule, & college football as a whole.
3rd Segment - "Coaching with Class" with Katie Kolinski, a weekly Signature Segment with Katie who spent 7 seasons with Jim Boeheim & the Syracuse Men's Basketball staff & is now the Director of Basketball Operations for University at Buffalo Women's Basketball. In this episode, Dan & Katie discuss Kawhi Leonard, Syracuse Football this season, LeBron James & Lonzo Ball co-existing on the Los Angeles Lakers' squad, Katie playing Brianna Stewart on the court, & More.
4th Segment - "The Fantasy Football Power Hour", Proudly Presented by The Wildcat Sports Pub & The Pen & Trophy Center, where Dan is joined by Mike Sofka of HallofFameFantasyFootball.com to get you ready for EVERY GAME, EVERY WEEK in Fantasy Football, with this being WEEK 4.